When it comes to retaining users and driving loyalty in today's crowded app market, loyalty programs have proven to be a valuable solution. From rewards programs that offer discounts and special perks to devoted customers who make repeat purchases, to loyalty points systems that encourage continued use of the app, these programs have been shown to increase retention and drive revenue for app owners.
However, as the app market and society evolve, it's clear that traditional methods may not be a long-term solution for today's app publishers. To drive loyalty for your app, it'll take more than in-app perks, publishers need to find innovative ways to mould into their users' everyday lives.
Why are app publishers struggling to drive loyalty?
Firstly, with the increasing number of apps available in the market, users have a wider range of options to choose from, making it easier for them to switch to a competitor's app. On average, 3,739 apps are released on the Play Store each day. In March 2023, 31,500 apps were published on the App Store, up 2% compared to February 2023. With so much choice, it's hard for users to stay loyal to just one app.
Secondly, poor user experience, such as long load times, frequent crashes, or constant ad pop-ups, can be a significant factor in users abandoning the app. CleverTap found that 28% of users uninstall apps due to excessive advertising and notification alerts. Publishers need to generate revenue but may not realise that their monetization strategy is actually driving users away.
Lastly, there's no incentive for users to stay. Whilst users are happy to use your app for a period, how are you meeting their day-to-day needs externally? This is a question publishers very rarely consider. But by answering this, you may find a way to create a sticky app that drives loyalty and generates revenue at the same time.
With the average app losing 77% of its daily active users (DAUs) within the first three days of installation, it's now more important than ever to offer your users something exceptional to make them stay. Something like Kindred.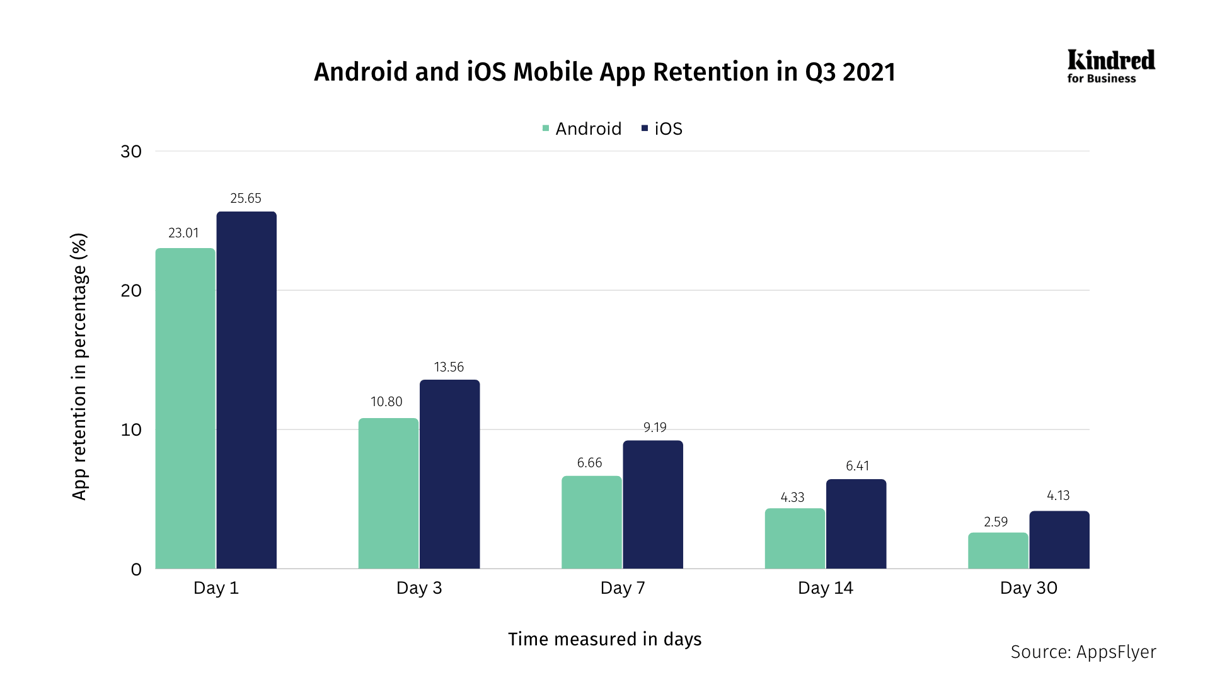 Driving loyalty to your app couldn't be easier
While traditional loyalty programs have proved effective in engaging and retaining customers, they frequently use the same strategies to incentivise user behaviour, such as discounts or reward points. Furthermore, many of these programs are compartmentalised within the app, forcing users to perform behaviours within the app in order to gain incentives.
You can take your user retention efforts to the next level using Kindred's SDK by rewarding users for behaviours they regularly conduct outside of the app.
Kindred's SDK, unlike traditional loyalty programs, is not confined to behaviours performed within the app. Instead, we assist app publishers in monetising their users' behaviours as they browse and shop in their mobile browsers, all while maintaining exceptional user experience. This provides app owners with a new revenue stream while also providing users with discounts on over 250,000+ retailers in 150 countries when they purchase in their mobile browser.
Our SDK drives loyalty by capitalising on a sure demand of your users: online purchasing. 33.3% of the world's population shops online, whether it be for necessities or as a gift. You can give your consumers access to exclusive deals from their favourite brands by integrating our SDK into your app. These discounts are automatically applied at checkout each time they shop.
We also offer personalised branding, so that whenever a discount or coupon appears, your logo appears to remind users about your app and encourage them to actively utilise it.
The savings generated by your users can be used in a novel way to reward users in your loyalty program, such as trading their savings for in-app rewards as they shop online or simply cashing out. Unlike traditional programs that are siloed within the app, this allows app publishers to drive loyalty through multiple channels and increase retention over time.
Kindred's loyalty program integrates seamlessly with other revenue tactics you may already have in place, such as in-app advertising or in-app purchases. Check out how our SDK works here.
Conclusion
In summary, traditional loyalty programs have been effective in engaging and retaining users, but Kindred's SDK offers an innovative and unique approach that can take your user retention efforts to the next level.
By rewarding users for actions they are already taking, Kindred can help app owners drive loyalty and retention in a way that complements and enhances their existing strategies, all whilst creating a complementary revenue stream.
Are you ready to skyrocket your retention efforts? Book a call with a member of our team today to see how Kindred can drive loyalty for your app today!